Sweet & Tangy Mustard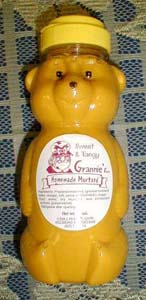 Grannie's Sweet & Tangy is the next best thing to Heaven.
If you don't like mustard you've got to try this.
Grannie say's you can whip up a tatter salad with this
and you will be the talk of the picnic.
Check out grannie's recipe.

Available is three sizes.
10 oz - $4.60
40 oz - $11.75
155 oz - $27.00
Order Now
Check our other flavors
Chipolte
|
Habanero
| Hickory | Honey Mustard | Horseradish
Jalapeno | Ole Smokee | Ranch
|
Sweet & Tangy
Gift Ideas