Grannies Seasoning
Tom Andrews Photo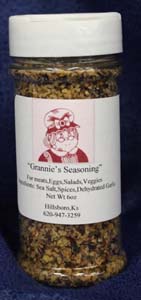 It's a little hard to describe our new seasoning,
but it's easy to enjoy.
It works like salt and pepper all in one
with the bonus of a good health benefit.
A serving size of 1/4 teaspoon has 220 milligrams
of salt compared to regular salt that
has around 600 (the secret is sea salt).
It makes a mean gravy on mashed potatoes & biscuits.
Our customers tell us they love it!
Go to our order page to order.