Ya all check us out at one of these stores.
If your store isn't listed, ask your grocer to call us or e-mail Grannie or Eugene and we will get them fixed up.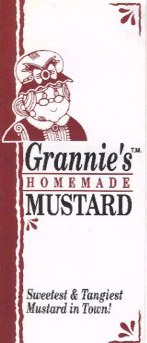 Kansas
A
Abilene - West's Food Market

B
Belle Plaine - Kansas Travel Center
Belleville - Kansas Travel Center
Belvue - Kansas Premium Beef
Buhler - Hometown Food Store
D
Derby - Sig's Meats
Douglass - Reagans Unique Boutique
Durham - Main Street Cafe
G
Goessel - Keith's Foods
Great Bend - Heart of Kansas Mercantile

H
Hays - Hays Medical Center
Hays - Impressions Everlasting
Hesston - Hesston Market
Hillsboro - Dale's Supermarket
Hillsboro - Heartland Foods
Hutchinson - Back to Nature
Hutchinson - Smith's Market
Horton - Tornado Alley Trading Co.

I
Inman - Hometown Food Store
Inman - Jerry's Cafe
J
Junction City - Hildebrand Farms
L
Lawrence - Community Mercantile
Lucas - Brant's Meats
M
Manhattan - Eastside Market
Manhattan - People's Grocery
Marion - Carlson's IGA
McPherson - Cake Lady
Kansas
M
McPherson - Krehbiels Meats
Moundridge - Moundridge Market
Mulvane - Wyldwood Cellars
N
Ness City - Prairie Mercantile
Newton - Gillispie Meats
Newton - Meridian Grocery
Newton - Overton Fruit Market
Newton - Prairie Harvest

P
Park City - Leekers
Paxico - Wyldwood Cellars
R
Russell - Veez Unlimited
S
Salina - Smokey Hill Museum Gift Shop
T
Tampa - Tampa Trail Stop
Topeka - Kitchen Gallery
Topeka - Reese Fruit Farm


W
Wichita - All Things Bar-B-Que
Wichita - Green Acres Market
Wichita - Kansas Store Town West
Wichita - S & S Meats
Wichita - Wyldwood Cellars
Wichita - Yoder Meats - All 3 Stores
Wilson - Kansas Originals Market
Windfield - Hometown True Value
Y
Yoder - Yoder Meats
Oklahoma
Woodward - Vickies C & C