About Us
Faith Like a Mustard Seed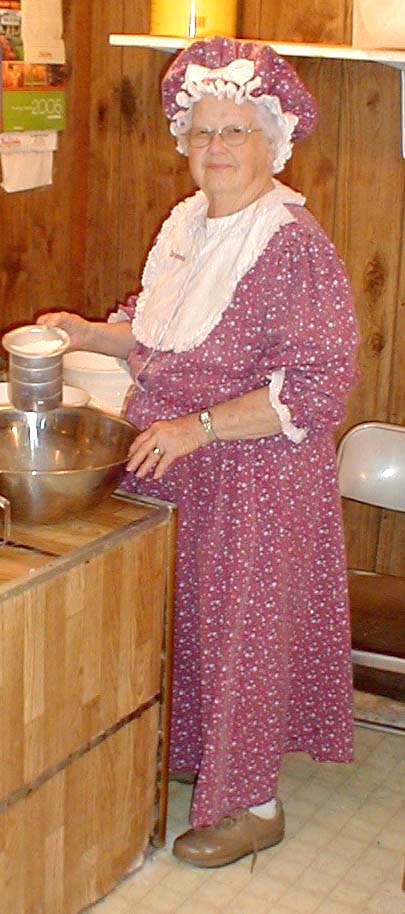 When Lydia Hein's doctor told her she could no longer keep her job as a cook due to spinal problems and a damaged left foot, she didn't know what to do. She and husband Emice (Gramp's) needed the extra income. Son Eugene was quick to suggest another alternative, "Mom why don't you whip up some batches of your good mustard to sell at the Arts & Craft Fair? That ought to help".
Lydia thought, "Homemade mustard, who in their right mind would jump into such a venture at age 63? Why would I want to make a fool of my self". Then she thought of the verse from Matt 13:31-32, "The kingdom of heaven is like to a grain of mustard seed, which a man took, and sowed in his field Which indeed is the least of all seeds: But when it is grown, it is the greatest among herbs, and becometh a tree". So with this nudge from the Lord she decided to sell some of her family's secret mustard recipe at the "Hillsboro Arts & Craft Fair In September 1990. Soon after orders started streaming in from New York to California.
Making The Mustard
Lydia and Emice, soon after the Hillsboro Arts & Craft Fair, invested in much needed equipment in their state approved basement of their home, and are currently preparing to receive future tours. originally the family helped, but now grown, they now have hired help, the family still helps when they can, they make gallons of mustard, faith like a mustard seed, the business continues to grow.
Grannie's Most Famous Customers
Grannie's Homemade Mustard, Lydia has many famous customers. When President Boris Yeltsin visited Kansas, The Open Window Gift Shop from Topeka prepared a gift basket and placed a 10 oz bear to take back to Russia.
Senator Nancy Kassebaum served Grannie's at a US Senators Luncheon in Washington, DC sixteen cases was sent to Blomingdales for use in a Kansas Food Promotion sponsored by the Marketing Division of the Kansas state Board of Agriculture. Grannie also receives orders from the Pentagon in Washington, DC.
Other Neat Things about Grannie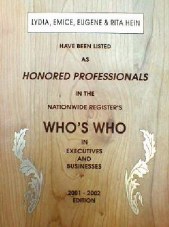 Grannie has been on many radio talk shows, and daily papers all over Kansas, Grannie has been highlighted on Hattiesburg's People, a commentary on the local television news about Kansas people, and featured in the second edition of Mr. Hattiesburg's book, published in 1994.
Grannie was recognized in the 2001-2002 nationwide Edition of "Who's Who."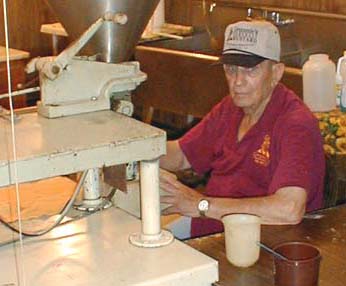 Gramps hard at work.
Home | About Us | Our Mustard | Our Seasoning
Recipes | Nutritional Facts
Contact Us | Upcoming Shows | Place an Order | Retail Stores